CBD capsules: How are they different from other CBD products?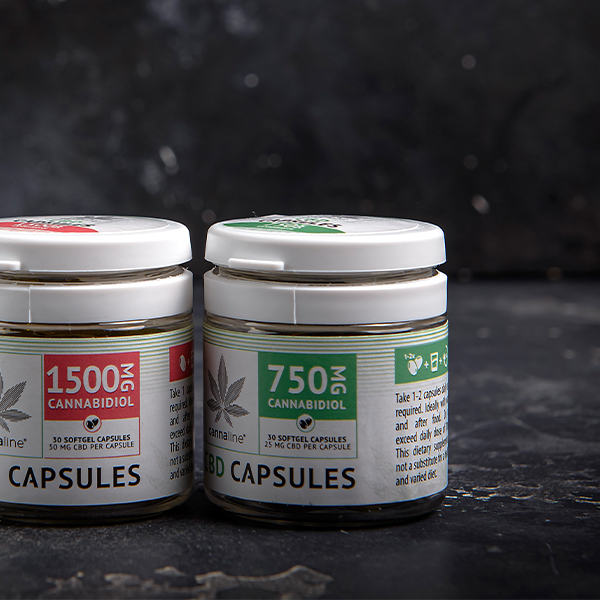 Did you know that CBD capsules and capsules are often supplemented with various vitamins, so regular use of CBD capsules contributes to the overall harmonization of the body and mental regeneration?
About CBD
CBD - cannabidiol is one of the two best known and in terms of the effects of the most important cannabinoids. Cannabinoids include not only the natural substances contained in cannabis, but also those produced by our body (endocannabinoids). These substances maintain the balance of our metabolic system. The cannabinoid system affects virtually all functions of our body. Read more about CBD and its effects.
What makes CBD capsules different from other CBD products?
unlike other CBD products, you are 100% sure of the dose you are taking
easy and discreet use
contain a full-spectrum CBD
thanks to the oil content, they offer maximum efficiency
What is the composition of CBD capsules?
Most CBD capsules are based on coconut or hemp oil, to which CBD is then added.
What is the difference between CBD capsules and CBD oil?
Until now, CBD oils have been one of the most popular forms of CBD, but CBD capsules are good on their heels. Why? And how is CBD capsules different from oil?
Potency: The body processes both products in different ways. CBD oil has a faster onset of action than capsules, but CBD capsules have a longer effect.
Tip: It is ideal to combine both products - for example, by taking CBD oil during the day and taking a CBD capsule in the evening.
Price: When choosing CBD products, you will probably look at their price. The price of capsules may be higher than the price of CBD oils, but be sure to consider the amount of CBD in the pack - for example, one Green Earth capsule contains 10 mg CBD, while one drop of 10% CBD oil contains only 4 mg CBD. A typical oil package then has about 260 drops, while a capsule package usually contains 100.

Convenience: If you don't spend most of your time at home, you will want your chosen form of CBD to be not only discreet, but also easy to carry. Here, CBD capsules offer their greatest advantag

Dosage: Getting the right dosage is the key to making CBD products the way you need it. If you do not have a doctor's recommendation and you do not yet know which dose will suit you, it is better to start with a smaller dose and gradually increase it. CBD oils are more suitable for experimenting with dosing, but once you find out what your "dose" is, you will no longer have to count drops for CBD capsules and you will always get the same exact dose.

Dosage tip: If you do not find the recommended dosage directly for your chosen product, you can start with a dose of 2 to 3 mg CBD three times a day - 6-9 mg CBD per day. If you do not feel any relief after a week, you can increase the amount by 5 mg CBD per day. Although CBD cannot be overdosed, it is important to know that a maximum of 2.5 mg CBD is recommended for every 10 kg of body weight.
How and with what do CBD capsules help?
CBDs from the capsule are absorbed in the gastrointestinal tract and are therefore particularly suitable for people with inflammatory diseases of the gastrointestinal tract and other problems for which nocturnal use of CBD is more appropriate.
The onset of effects of CBD capsules is slower than that of CBD oils, but their final effect lasts longer. This is because the capsules have to go through the digestive system before your body can start processing CBD. The capsules start to work after about an hour and last for about 8 hours.
How and what to choose?
In the offer of CBD capsules you will usually find a smaller package of 30 capsules and a larger package of 100 capsules. If you are starting with CBD capsules and you are not yet sure about the dosage or whether they will suit you, choose a smaller package to start with. With long-term use, of course, reach for a larger package, which is more convenient.
The main factor according to which you choose your CBD capsules is the concentration of CBD - their "strength". Of course, choose a lower concentration to start with, and you can choose a stronger one when you tune the dosage. For example, one Euphoria CBD capsule of 300 mg capsules contains 10 mg of CBD, but an Euphoria CBD capsule of 900 mg capsules already contains 30 mg of CBD.
Some of you will surely wonder if CBD capsules are vegan - some yes, some no. CBD Green Earth capsules, for example, are vegan, but most capsules are made of gelatin.
The most popular products from the CBD capsule line: