Chocolate and CBD: Your double dose of happiness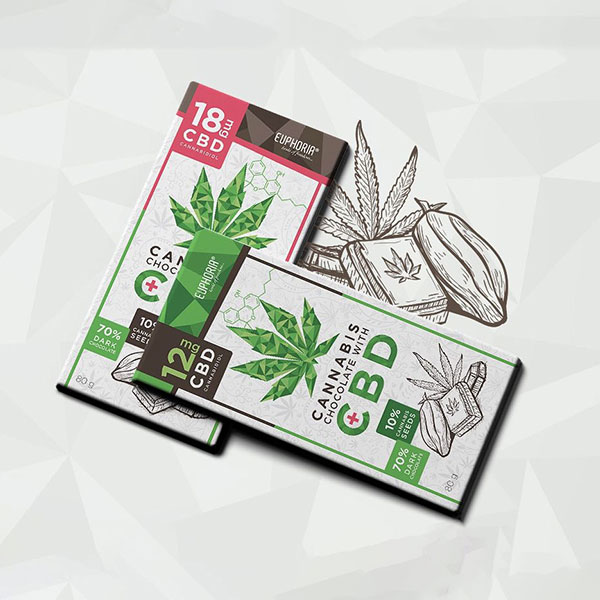 Your double dose of happiness
When two things that make you happy come together, how could you resist? Chocolate with CBD will become your favorite treat. All it takes is just high quality chocolate and just as good CBD. You deserve the best!
The more the better?
Chocolate is often considered superfood of the future. But not just your regular milk chocolate but the dark high content cocoa chocolate. The high content of cocoa helps to flush the endorphins into the blood and thus contribute to your good mood. However, the cocoa content could be a very misleading indicator. 
It's all about beans 
The cocoa content is given as a percentage and indicates the amount of cocoa products in the chocolate dry matter. In most cases, this means that the cocoa content expresses the percentage of cocoa butter and other intermediate products. And this is dry matter. And what about the rest? You will certainly learn about the quality of chocolate from the production process. In a high quality chocolate there shouldn't be butter, or aroma, flavoring or just traces of cocoa. You want the real deal - you want cocoa beans. And maybe something extra on top of that.
Double dose of happiness
Do you want a healthy, good quality snack that will make you happy twice? Look for hemp chocolate with the shortest possible list of ingredients - without cocoa "something", but with real cocoa beans, without sugar substitutes and also without lecithin. And if it also contains CBD, you get another health benefit. CBD affects receptors which determine the production and redistribution of happiness hormones in the body, thus doubling the effect of chocolate. Try, for example, dark chocolate with 18 mg CBD and enjoy a double feeling of happiness!